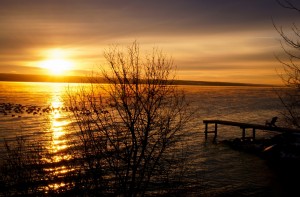 As part of my recovery from rotator cuff surgery, I've taken up a daily practice of toning/sounding/chanting meditation. As I settle into my body and breath, feelings of sadness and frustration bubble up along with my sounds and song. There is a manager – analyzer part of me that wants to fix the pain right away. Let's figure this out! Let's get to the bottom of this right now!!!
Instead, I choose to stay with sensation, feeling and the vibrations of sound. I follow the tones, letting them move into cries and wails and then settle back down into comforting tones. As I let the river of life flow through me, and let go of needing to know exactly what's going on, I can feel relief flow in. I feel my connection to my body, breath and voice, and I feel my connection to Spirit growing. I lean into trusting that it's more important to LET GO than it is to FIGURE IT OUT.
After all, in the moment one has to choose because you can only do one thing at a time. You have to choose. So, I say practice letting go rather than needing to know. There's plenty of time to figure it all out.
Exercise for the Day:
PART I
Begin with 5 minutes of toning. Sit comfortably with a straight back. Use pillows to support your spine if needed. Begin by turning your awareness toward your natural breath. Then add a tone on OM. I want to use OM because I want to invite you to play with the vibrations on the mmmmmmmmmmmm. Do one OM per breath and REMEMBER to allow time for the inhalation.
When you get to the Mmmmm, move your mouth and lips as if chewing on it. Focus on these vibrations and without pushing or pressure, see if you can increase the vibrations.
Now, let the movement travel through your face, wrinkle your nose and explore how the vibrations move around.
Now, allow the sound to open into a full bodied AH.
PART 2
As you tone, notice if there is tension in your body and place a hand over the area that is holding tension. Send your sound, your attention and your LOVE to that area. Send a message: "I'm right here. It's okay to let go."
If there are feelings that bubble up, let them come and give them VOICE. Let the AH go where it wants to go. Let it be a song, a yell, a WAIL! Let your feelings become sound and song, rather than held tightly in your body. You can be Big and LOUD. You can let your inner 2 year old throw a tantrum or come out to play! Your voice doesn't have to be pretty!
Now come back to your body and breath, and notice how it has changed. Do you feel more relaxed? Is their more space in your rib cage, less holding? Is your busy mind quiet for a moment?
Take time each day to let your voice out to play.