Voicing Your Self
WOULD YOU LIKE TO…?
Let loose and have fun singing, sounding and creatively exploring your voice
Give yourself permission to Come Out and Play
Be able to freely share your authentic speaking and singing voice with others
Feel more empowered in your life around speaking your truth
Have a safe space dedicated to deepening your relationship with your own voice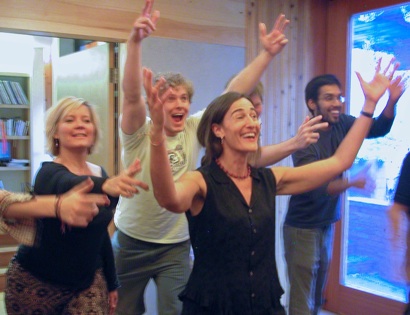 Voicing Your Self is a weekly class where you can free-up, be playful and practice letting go! You will discover the many aspects of your self and deepen your relationship with your authentic voice. We'll include the playful part who knows how to lift you up, the shy, self-conscious one who keeps you small, and of course, the Critic or Judge who always has A LOT to say about welcoming all of who you truly are.
The focus of Voicing Your Self is to connect and embody your voice through freeing exercises in sound and movement. It is a unique opportunity to love and accept your own voice just as it is.
What will we do in this class? With a spirit of curiosity and self-acceptance, we'll invite our voices to come out to play through:
Sound and Movement Practices that Open and Free Your Voice – build strength and flexibility, in your body and voice, gain confidence in who you are.
Chakra Toning and Singing Your Soul Practices – Group and individual practices that strengthen your voice, calm and ground your nervous system, and open your heart.
Breath-work — learn revitalizing breathing practices that deepen your diaphragmatic breath and give you tools to manage stressful situations.
Expressive Voicework – playfully embody and express the colorful range of parts and feelings that make up who you are.
Spontaneous Vocal Improvisation – free up your Self and your Voice. Say YES to the flow of life, sound and song that moves through you!
Simple Songs and Rounds – have fun singing group songs in a small and supportive group.
An Opportunity to Share Your Voice– Share a song, poem or spoken word with the group (optional) and be supported and coached by Eve.
"This is the safest room in Colorado where I can actually not do anything wrong. This gives me freedom to try anything." – Greg Ellison, Principal Network Engineer
---
WHEN: 8 week group on Tuesday Evenings January 24th to March 14th from 6 to 8 pm
WHERE: in Boulder at my home studio on 'the Hill'.
HOW MUCH: $275
TO REGISTER AND FOR MORE INFORMATION: Call or Email Eve; (303) 653-8517 – eve@

null

movingvoice.com
About Eve Pollak Maisonpierre MA, VMT, CHT
Eve creates a safe, non-judgmental space where participants can explore and expand their Voice and sense of Self. Her passion is to help people embody and embrace their authentic voice. Eve's credentials include an MA in Vocal Performance, Certification as a Voice Movement Therapist and a Hakomi Body-Centered Psychotherapist.