AWAKEN YOUR VOICE
A Weekend Workshop with Eve Pollak Maisonpierre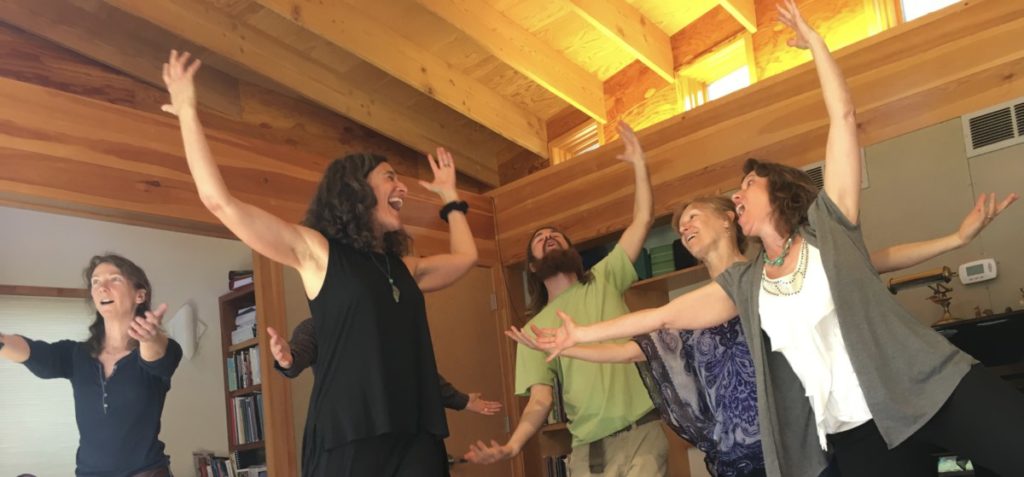 Nowhere else have I been given the space to explore and express my authentic voice and therefore my authentic Self! Thank you Eve! Alex Wirth
Eve's class gives full permission for judgement-free vocal exploration and pushes new boundaries on vocal self-esteem. – Alison McPherson Director of E-commerce
For Whom:
Psychotherapists, Healers and Body-workers, who want to embody and express their authentic voice.
The Call: 
To embrace our truest selves, we must go 'out beyond ideas of right and wrong doing' (Rumi). 
We must go beyond our conditioning. 
We must go beyond the stories we carry about our voices.
Let's come together in a safe and non-judgmental space, to explore, expand and celebrate our own unique voices. 
Let's awaken from self-consciousness and move into sound consciousness. 
Let's learn to follow and trust our own creative impulses and learn to be gentle and bring humor to our edges.
Do you long to…?
Build confidence in your deepest self and connect to your authentic voice through spontaneous sound

Let go of needing to be a good singer and trust the natural voice that pours from your mouth

Feel more empowered in your voice and able to speak your truth in relationships

Build Awareness and unblock the Chakras through toning practices

Broaden your expressive range and integrate more aspects of yourself into your voice.

Be playful and lift yourself up through group sound, improvisation and song

Have new tools to calm and ground your nervous system when under stress
What you can expect: 
We will explore our voices with practices from Voice Movement Therapy (Paul Newham) and The Naked Voice (Chloe Goodchild), using journaling and group sharing to integrate our experience. 
Breath-work 
Spontaneous Sound and Movement Practices to Open and Free Your Voice Chakra Toning and Singing Your Soul Practices 
Simple songs and Chants
Improvisational play
Group Sharing
A Weekend Intensive: November 4 & 5. We'll meet Saturday from 10 – 5p and Sunday from 10 – 4.
Fee: $325 (Register by Oct 21st and receive $75 off ($250)
For more information contact Eve; (303) 653-8517 – eve@nullmovingvoice.com 
About Eve Pollak Maisonpierre MA, VMT, CHT: Eve creates a safe, non-judgmental space where participants can explore and expand their Voice and sense of Self. Her passion is to help people embody and embrace their authentic voice. Eve's credentials include an MA in Vocal Performance, Certification as a Voice Movement Therapist and a Hakomi Body-Centered Psychotherapist. She is currently studying Naked Voice work with Chloe Goodchild.