Movingvoice Group Programs
Have you ever felt…
Afraid to share your speaking or singing voice with others?
Stuck in your relationships or work life and need inspiration to get back in the game?
That when it comes to expressing yourself authentically, you get choked up, your body constricts, or you feel overwhelmed?
That you just want to let loose and have fun singing, sounding and creatively exploring your voice?!
Now, imagine this…
Your voice is bigger, more flexible and fully expressive.
You're not afraid to speak your truth anymore.
You feel seen and heard by others.
Your voice is connected to your body, mind and spirit.
That stronger voice is already within you and it's ready for your invitation to show up fully at one of my 2 group programs:
Awaken Your Voice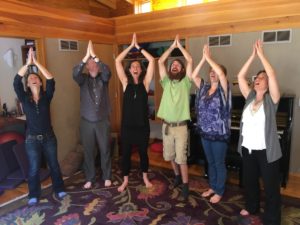 It's time to take the LEAP! Get ready to deepen and strengthen your relationship with your voice. As we bump up against our edges and deepen our relationship with our own unique voice, we'll come together during the weekly Awaken Your Voice class to heal blocked breathing patterns, build confidence in your voice, and calm and ground your nervous system.
Voicing Your Self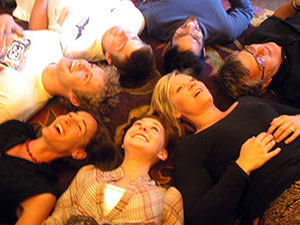 Voicing Your Self is a weekly class where you come to free-up, get creative and let go! Learn about the many aspects of your self and discover the different qualities of your singing voice. We'll include the playful parts who lift you up as well as the shy, anxious parts who keep you small and the critical parts who shut you down. We'll bring out the brave warrior through a powerful calling voice, the tender, quiet part through a sweet soulful lullaby and the joyful child through free improvisation.
"The effect of this work is uplifting psychologically, invigorating physically and rejuvenating creatively. It serves to release the voice and the spirit from constrictions and isolation."

– Paul Newham, Creator of Voice Movement Therapy
---
Who is this for?
People who want to overcome self-consciousness and share more of who they are with others.
People who love to sing but are afraid to share it.
People who feel physically or emotionally blocked and want to claim their voice and connection to core self.
People who want to be more creative and expressive in their lives.
Who is the teacher?
More vocal therapist than voice coach or trainer, Eve Pollak Maisonpierre creates a safe place where participants can explore and expand their voice. Eve's credentials include a MA in Vocal Performance and deep study in Voice Movement Therapy, Internal Family Systems, and Somatic VoiceworkTM.
What will we do in this class?
With a spirit of camaraderie and self acceptance, we'll discover the depth of our voices through:
Parts Work – playfully express and embody all the many colorful parts of your Self and your Voice.
Empowerment Skills – strengthen the resonance, power and expressive qualities of your speaking and singing voice; access the healing power of your voice.
Vocal Skills – build strength and freedom, hook-up your body and your voice; open, free and gain confidence in your voice.
Breath Awareness – gain awareness of fight/flight/freeze breathing patterns and move into more ease and connection with your breath.
Mindfulness Skills – become conscious of what limits your Self and your Voice; learn mindfulness techniques to stay grounded and resourced in your Self while engaging with others.
Group Toning, Sounding and Improvising – free up your Self and your Voice and go with the flow!
Sing simple part songs and rounds – have fun playing with your voice and singing songs in a small and supportive group.
Individual Coaching with Eve – have an opportunity to share a song with the group (optional) and be coached by Eve.
But what if I'm not a skillful or trained singer?
Perfect. Come as you are and know that your voice deserves to be heard.
"It is not important that the sounds are musical and beautiful according to the prejudices of the Western classical ear."

– Paul Newham, Creator of Voice Movement Therapy
How many are in the groups?
6-8 people
When and where will we meet?
Eve's backyard studio
750 14th Street
Boulder, CO 80302
Space is limited so reserve your space in this engaging group now!