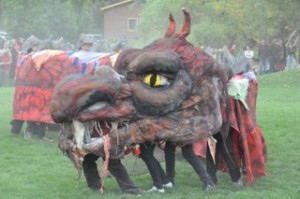 First, I want to apologize for disappearing for the last month. I had rotator cuff surgery and still can barely type at the computer.
Rehab has given me a new relationship with my voice. I want to offer it to YOU as a way to help get through mental or physical pain and suffering. The image that came to me one day when I was moving through the pain that occurs when I move my arm, is that I can ride my voice like a horse. Sounds crazy, huh?! Okay, like a fierce warrior, I straddle my horse and ride my voice out of my body and into the light! Still crazy?
As I open my mouth and begin to sound or sing, I feel my spirit moving through me and connecting me to something greater that holds me. I can do this while I'm doing painful shoulder exercises, in the comfort of my own studio.
What kind of sounds do you make, you might ask? I find two kinds of sound most helpful. First, angry sounds that have a nasal edge are excellent for moving through physical or emotional pain. The intensity of the sound can meet the intensity of pain. Another way to put it, is that the energy you create in sound can meet the pain that you are experiencing, and help to diffuse it. Continue reading »